Reading Time:
8
minutes


I tried 14 different apps to find best todo app for me for managing private task.
– Do jogging, Writing blog article,…


I want todo app that I can use with ease.
What kind of apps are there?
Tell me the best recommended app!
This article is perfect for those who have such a question.


On the other hand, if you are looking for project management tools, this page doesn't make any sense, so I would recomment to leave here to avoid wasting time.
Conclusion
If you always think "I need to do my task on time" but postpone what you want to do and what you need to do, todo app is good partner for you.
If you put your todo to app, you will never forget it, and there is alarm function to notify you with reminders.
So you will remember todo and process important things first!


Please tell me which app is good!


No problem, I put all results of my review for 14 todo apps!


If you (like me) want to use work notes for each task , the following are recommended!
1. Nimbus Note
2. Notion
3. Evernote


If you want to use it to manage and reminder simple recurring tasks, here are recommended!
1.Google To-Do orMicrosoft To-Do
2.Todoist


Here you can see comparison table each app.
The comparison items are selected by myself, but they are general items.
So I think this table is helpful.
– I'm using the Galaxy S10, so iOS apps are out of focus.

I think that it is difficult to examine everything in detail, so I think that it is good with the stance of trying to put an app that I thought "do not be bothered".
App name
Android App
Tags
Reminder
Attaching image
Comments
Evernote
Yes
Yes
Yes
Yes
Well known
Coda
Yes

✕

Yes

✕

UI unique and difficult to use
Dropbox Paper
Yes

✕

Yes
Yes
Deadlines can be set for each checkbox item
Joplin
Yes
Yes
Yes

✕

Full markdown
Nimbus Note
Yes
Yes
Yes
Yes
Easy to use with browsers/apps
Notejoy
Yes

✕

✕

Yes
Easy to use
Notion
Yes

✕

Yes
Yes
Easy to use
Reminder can be set only to task
RemNote
Yes
Yes

✕

✕

Old fashioned UI
Standard Notes
Yes
Yes

✕

✕

Simple and easy to use
Supernotes

✕

−
−
−
No Android app
Workflowy
Yes

✕

✕

✕

Unique way of creating tasks
Todoist
Yes
Yes
Yes
Yes
Free version is useless
Microsoft To Do
Yes

✕

Yes

✕

No memo functions for eask task
Good for simple recurring tasks
Google ToDo
Yes

✕

Yes

✕

No memo functions for eask task
Good for simple recurring tasks
Use case
Comparison items shown above are based on assumption of my workflow which I usually do.
When creating a task
 Open app
 Create item with appropriate title
 Set reminders
 Set tags, etc. if necessary

Running a task
 Open app
 Choose one task to do which is closest to deadline
 Open and work with the task
   Write your work, memo
   Attach screen capture if needed
   Paste URL link for reference material
 Remove reminder when you're done
  Set tags, etc. if necessary

When you look back at a task later
 Search by task name, keywords used at that time.


In addition, the way to open app is very important for usability.
Android app
From Galaxy S10/Chromebook
Chrome browser
From Windows/Chromebook


In my case, the activity work memo is often used to blog article.
Therefore, it is convenient if I can put images, hyperlinks, etc. on work notes.
In addition, I exclude most project management tools because they record edit date/time and editor's name when editing because I don't want to manage these infornation.
Introduction each app
Evernote
This is famous so no need to explain.
I am thinking about changing from this to another app because Ver.up made this app useless.
 - Discontinuing widget on desktop of Android smartphone.
 - The listing order of reminders is how far from deadline.
   Usually we want to check the closest one, aren't we?
 - Screen transitions when adding notes have increased, making it annoying.


In spite of these disappointments, I didn't get any improvement(at least in my use).
So I started to look for another app.
Please look at the image below.
You'll see that the order of reminders is the farthest from deadline is top, the closest is bottom.
This order is unreasonable because I think that everyone usually identifies the closest task to be done first!
Furthermore I can't change sorting rule…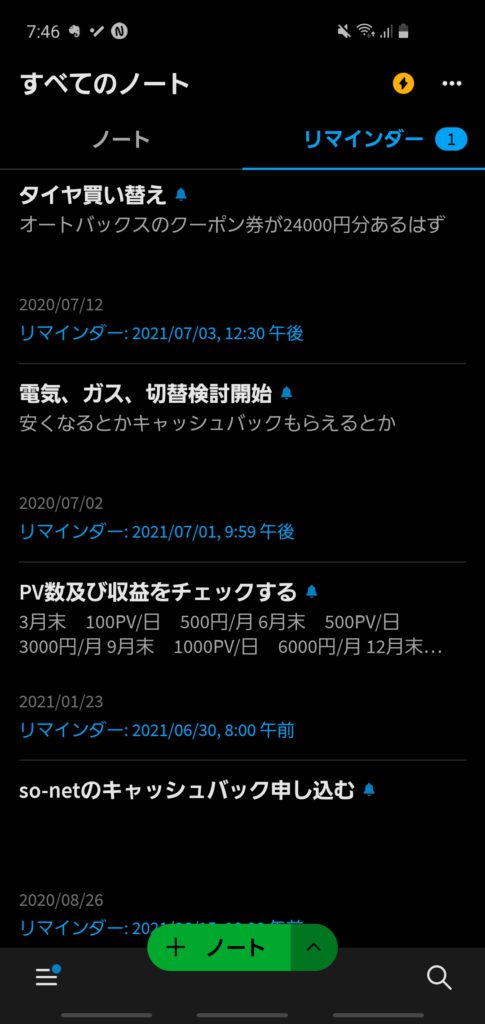 Now I have about 50 tasks with reminders, so I'm forced to use Evernote for a while, but after I move to Nimbus Note, I'm going to stop using Evernote.


From here, Let me introduce all todo app in the order in which I tried.
There are many things that I stopped using immediately due to look and feel.
So I think that it is good to use it yourself if there is an app you are interested in.
Coda
Coda, I didn't use very much because look and feel didn't match with me.
It looked being difficult to operate.
"Do I need to decide on a category of tasks for new task?
That made me bothering and I stopped using.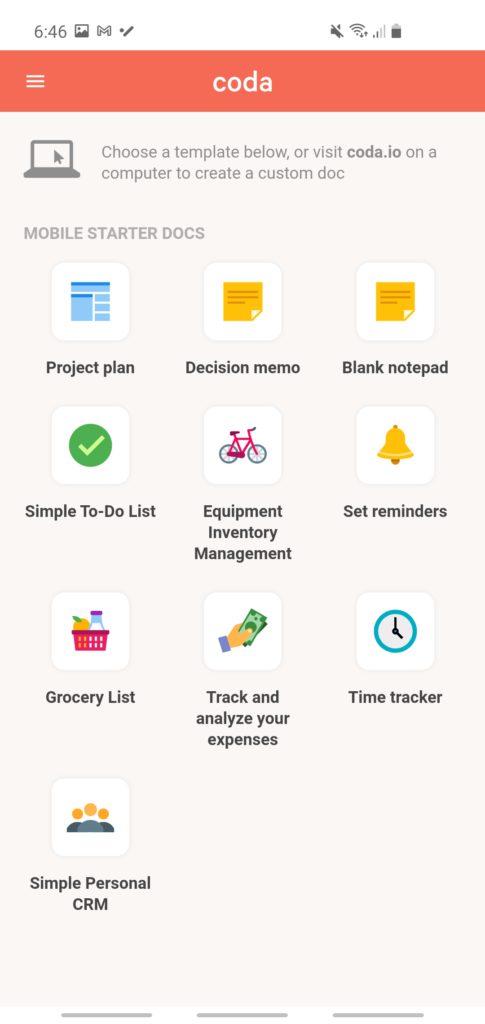 Dropbox Paper
This is memo application belonging to Dropbox.
The characteristic is,
– You cannot set deadline/reminder to each note.
– You can assign deadline/reminder to each checkbox in note.
Here you can see my sample note I made a note called "テストする" that means "This note is for testing".
It does not have any deadline itself.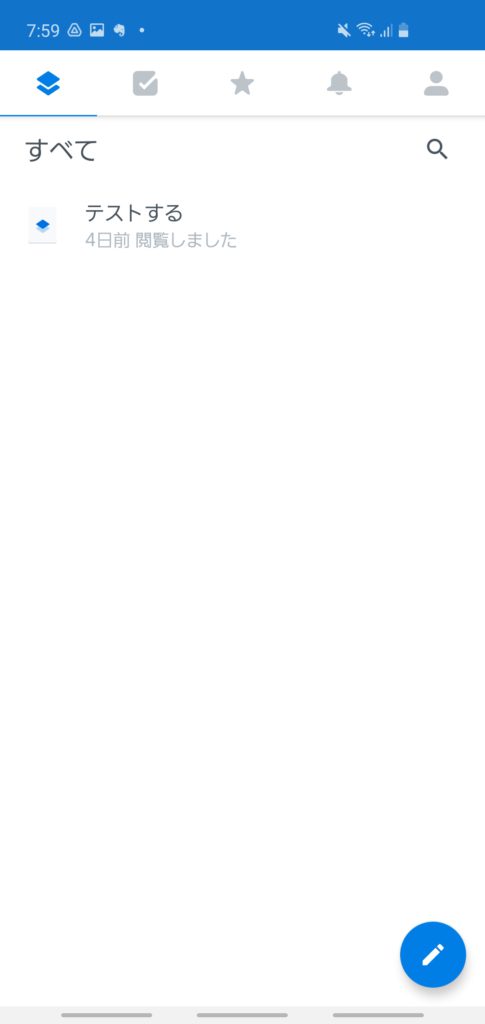 When you open this note, you can use features such as bullets and checkboxes.
If you look at "え", you can notice "先週" which means last week.
This represents that it expired last week.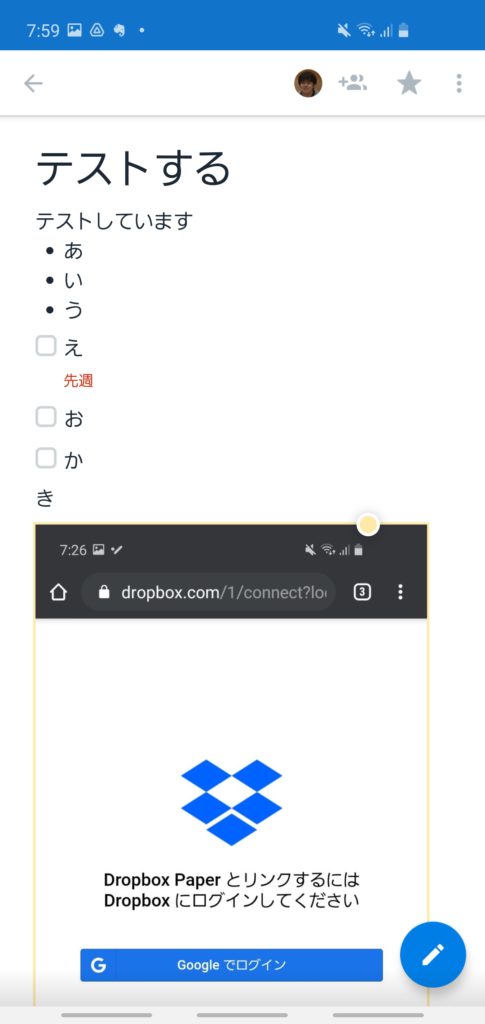 You can also view all checkboxes in one screen in dedicated tab.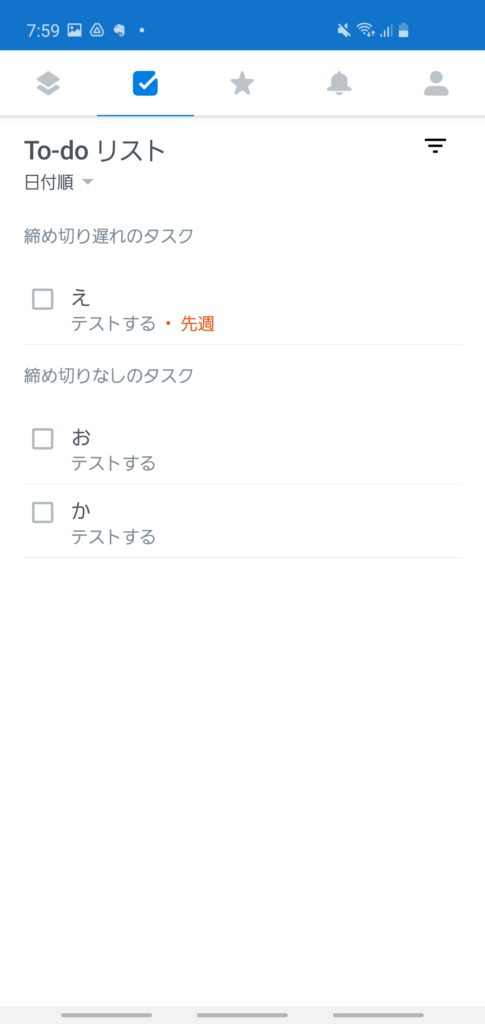 Unfortunately, I didn't use it because I want to set a deadline for each note.
Joplin
I hear this app is open source edition of Evernote.
It supports the Markdown format, so it is likely to meet those who like it.
It is difficult for those who want GUI button to create/edit table, font change, or others because markdown needs to be manually written.
Nimbus Note
This seems to be the best match for me!
It looks satisfying all my requirements listed below!
 - Android app, it also has widget on desktop in Android smartphone.
 - Web app version is almost the same usability as native app.
 - Reminders is supported.
 - Easy to paste images, bullets, tables, etc. with GUI.
 - Tag is supported.


You can see below, this is web application in Chrome opened on Chromebook.
Table, image, attachment, font change is also supported.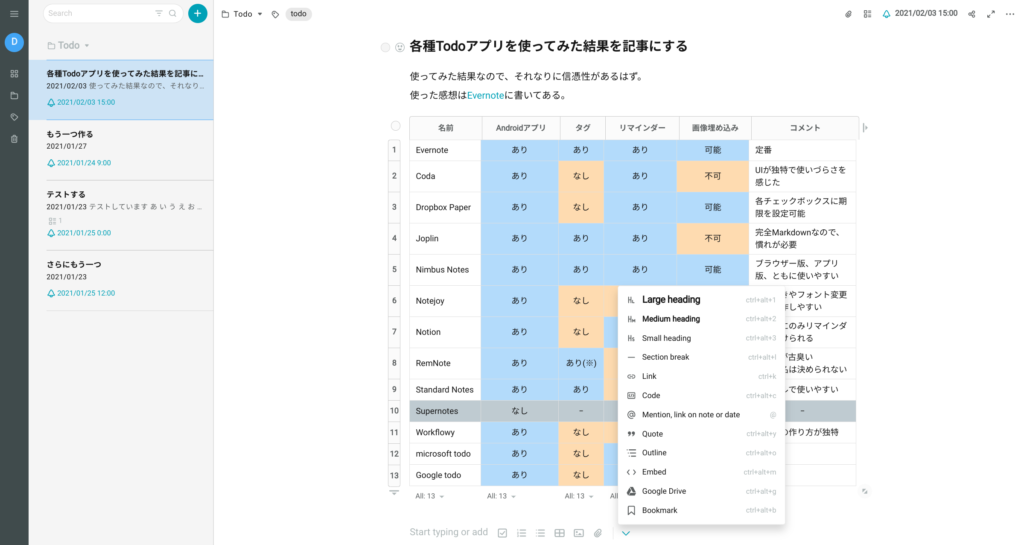 This is the view of native app from Chromebook
It is almost the same as web application.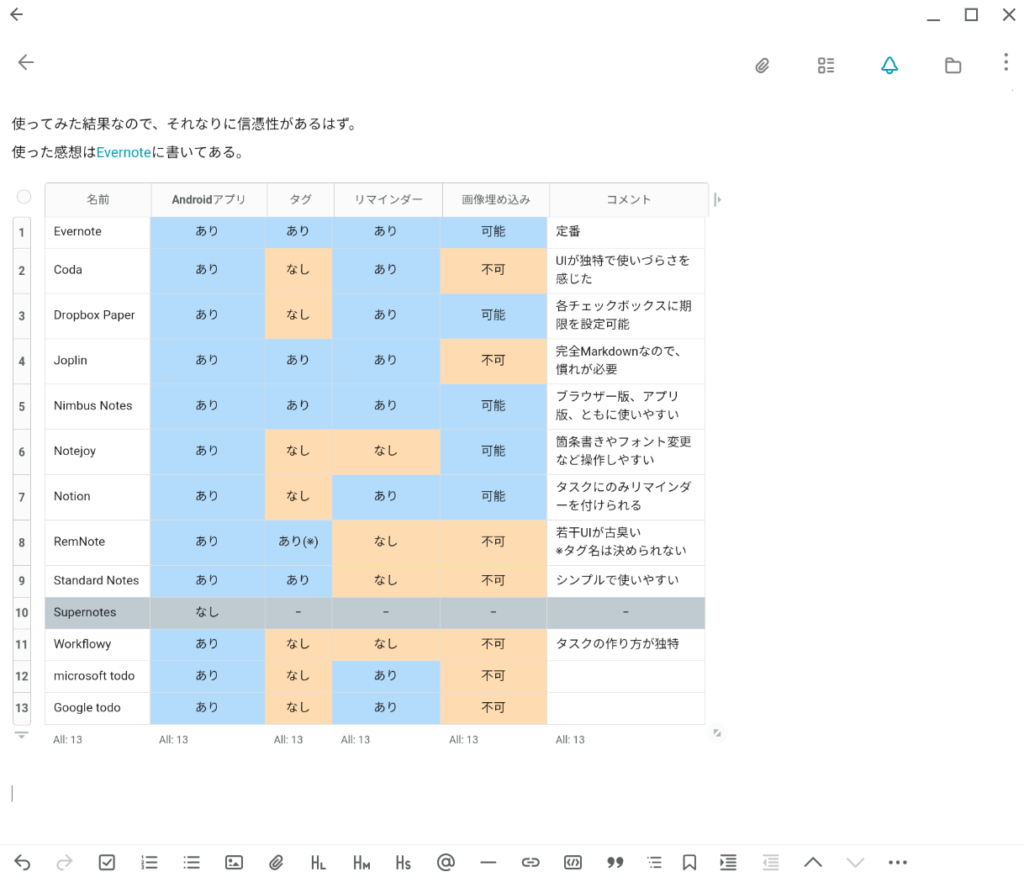 This is the native app in my Galaxy S10.
I can do the same thing with the GUI.
I am notified in the status area when the reminder deadline comes!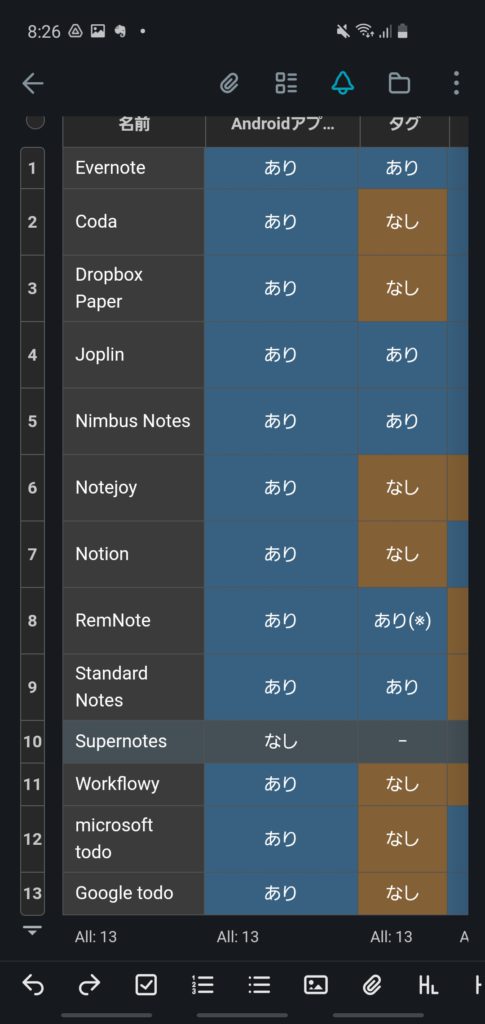 There is also a widget!
However, you can only specify the notes to be displayed in the widget by folder basis.
You cannot specify to display notes which has reminders.
To solve it I created "Todo" folder and "Done" folder.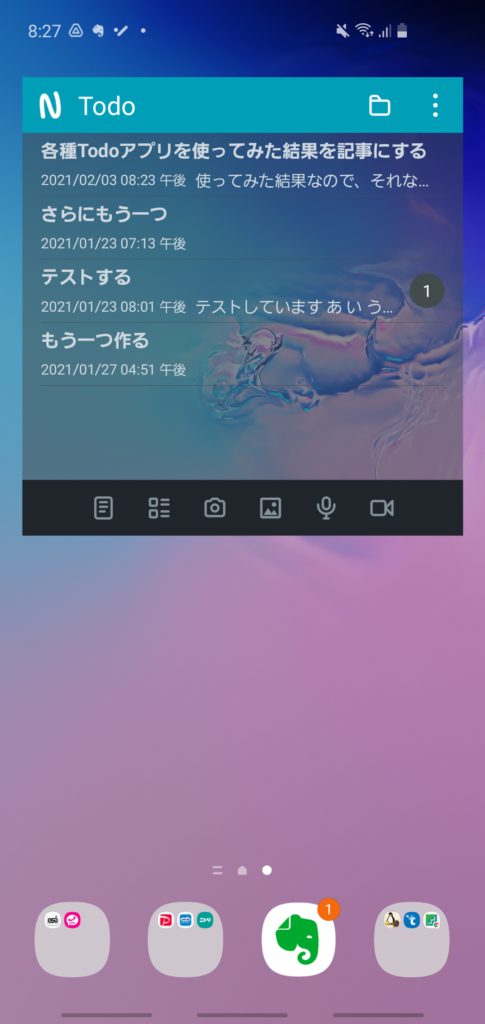 I don't have any complaints, so this is the best.
Notejoy
This app is also very easy to use as well as Nimbus Note.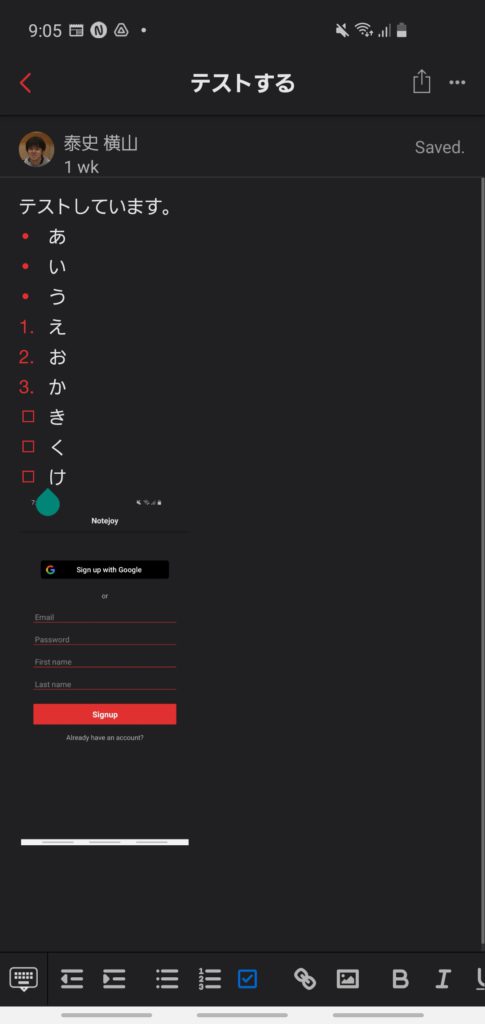 I didn't get into be used to because this app has no widgets/reminders.
But I could guess how to use even when I saw it for the first time, so I think it's good!
Notion
Famous note app.
The usability is similar to Notejoy, and very easy.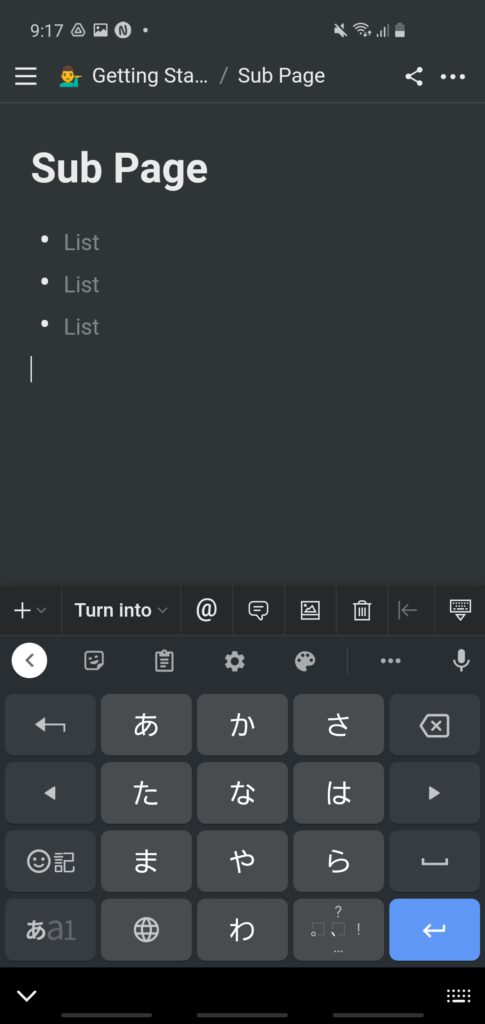 You can change the font by tapping "+" on the left side of the middle on the edit screen shown above.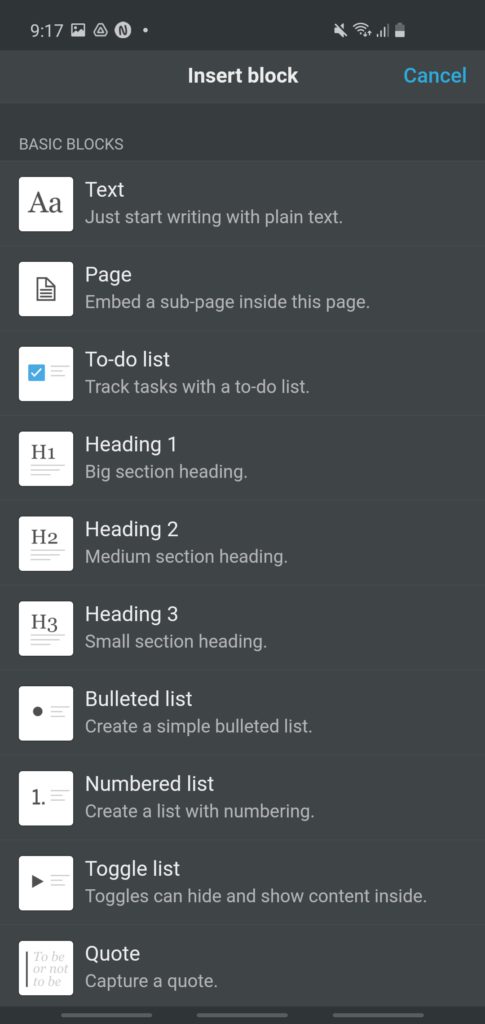 This app calls note as "page" and sub-page can be added as the child of "page" like this.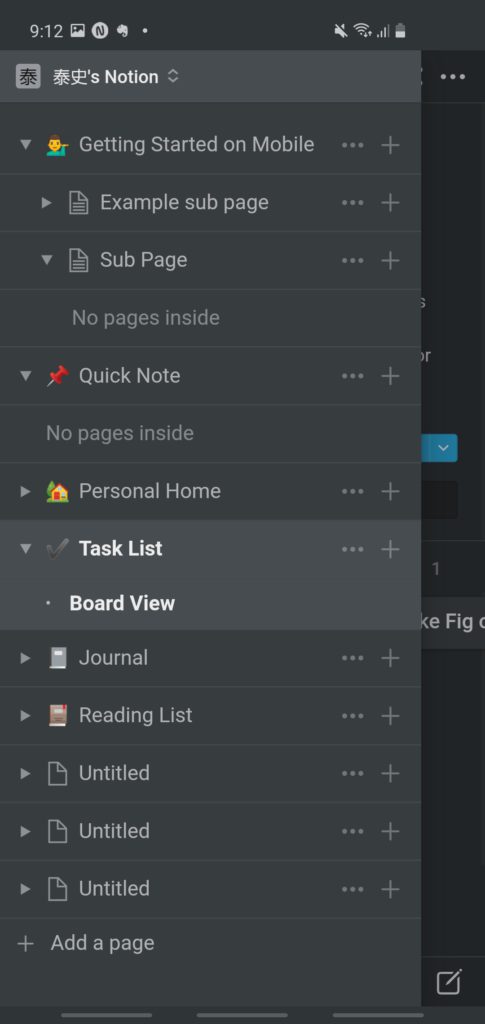 You can create and manage so-called "task" separately from pages.
Task has title, deadline, and status(done, not yet, …).
You can also leave comments with a date and time.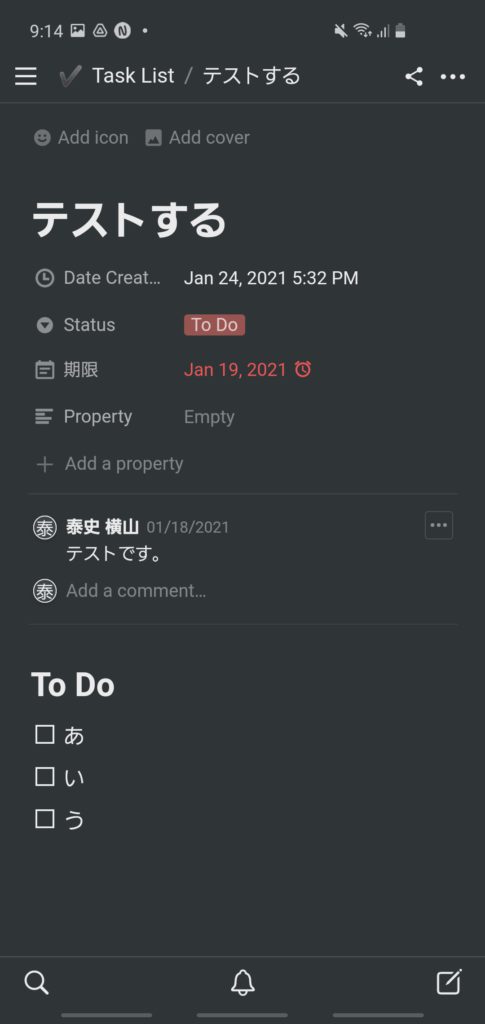 I didn't select this app because I want to use free style note as working memo.
But overall this app is also easy to use.
I recommend it as well as Notejoy!
RemNote
Just before I used Notejoy and Notion which are both very good to use, so I couldn't like this old fashioned UI in RemNote
– Fewer font/format available.
– Tag isn't supported.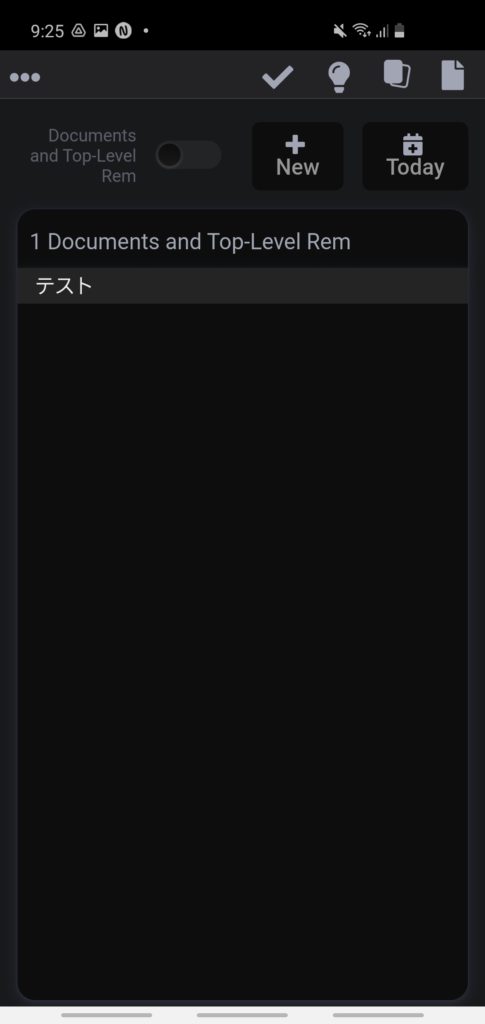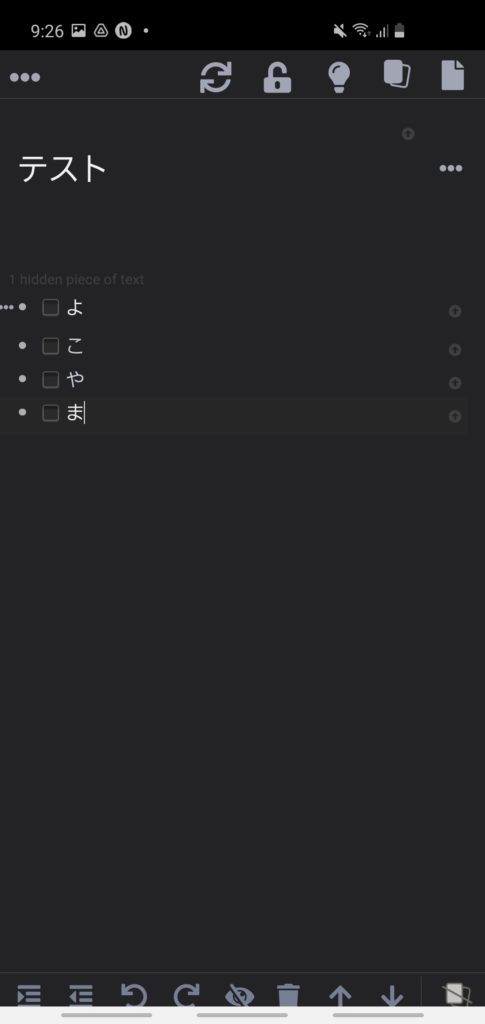 Standard Notes
It is a simple note app.
Font cannot be changed.
Bullets, tables, etc. cannot be inserted.
It seems to meet for those who want simple note app like notepad.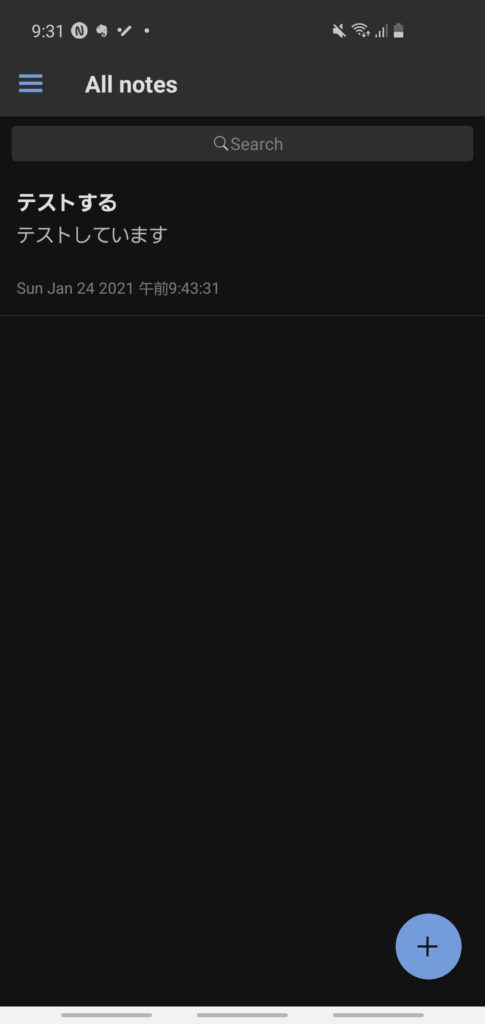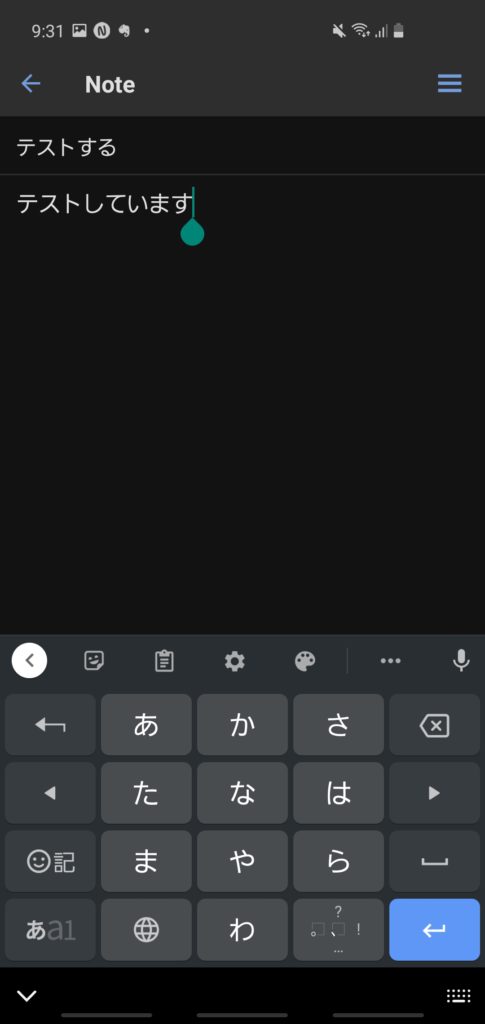 Supernotes
I didn't use it because I didn't have an Android app.
Workflowy
This app is characterized by how to make new task.
First of all, there is no concept of note like in other apps.
All tasks are represented in bullet points on a single notepad.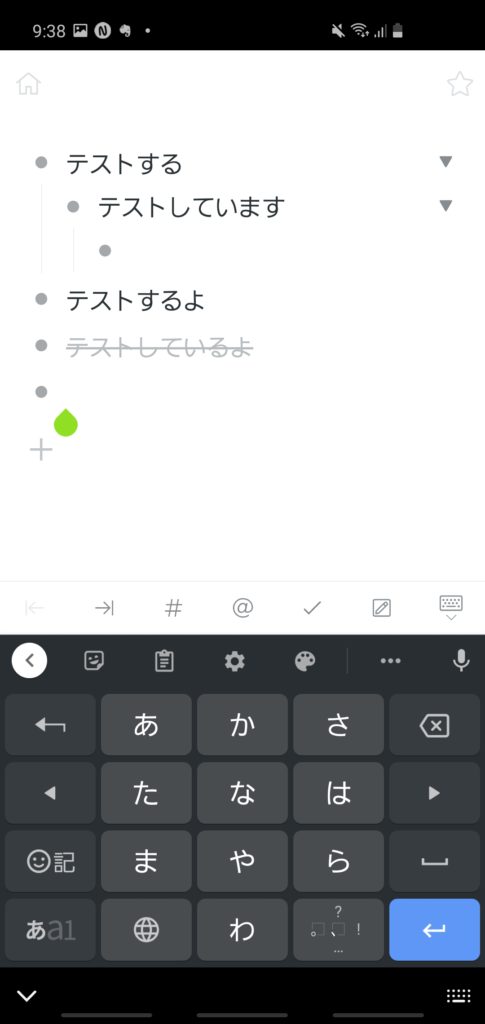 This usage does not meet me so I'm not using it.
Todoist
Because this is very famous, there are many people who use it.
Until about a year ago, I paid about 300 JPY per month and used the paid edition.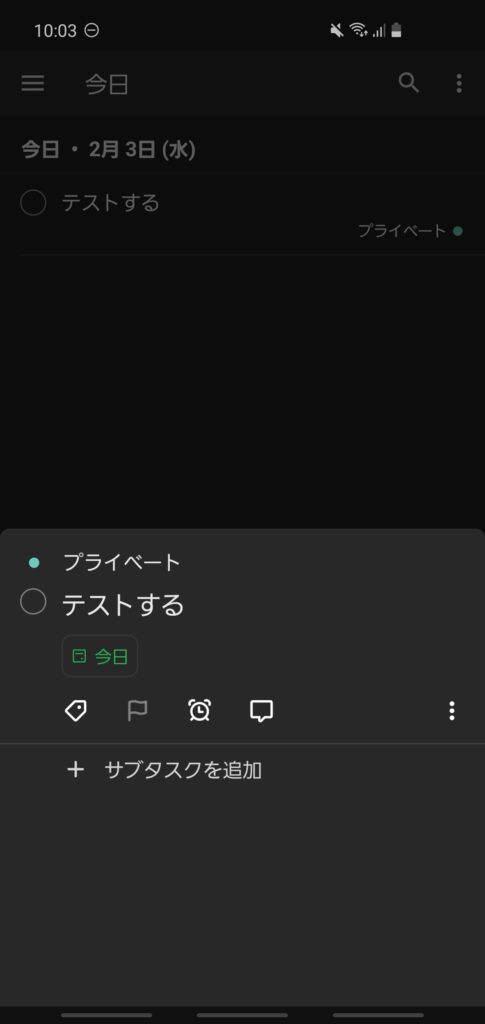 In the paid edition, you can use the following functions.
To say other word, it is useless if it is not a paid edition.
 - Reminders
 - Comment function (You can attach image)
 - Search for completed tasks
For more details, please visit the official website.
I was almost satisfying me from function perspective.
But I don't like inserting date/time when commenting.
Microsoft To Do
This is also famous and there are many people who use it.
Because it is Microsoft app, it can link other Microsoft apps like Office/Outlook so this is very convenient if you use these apps.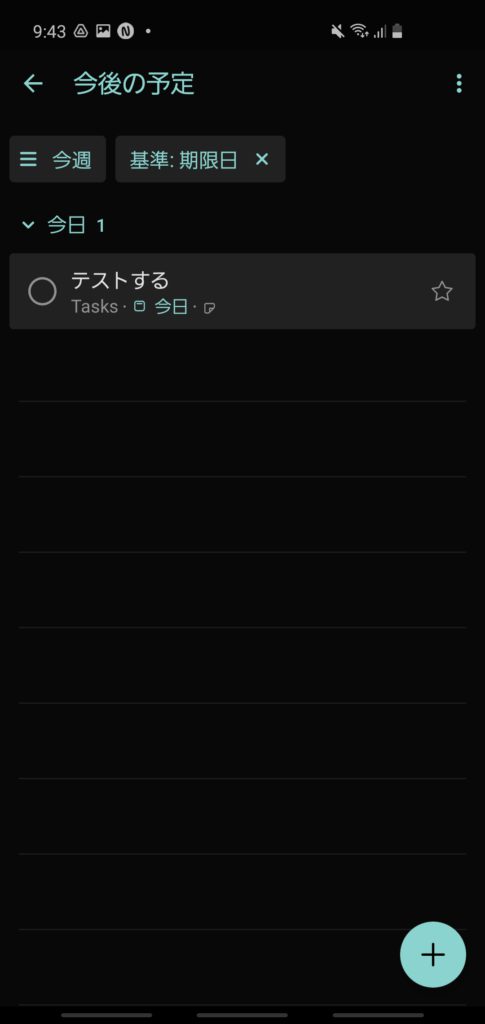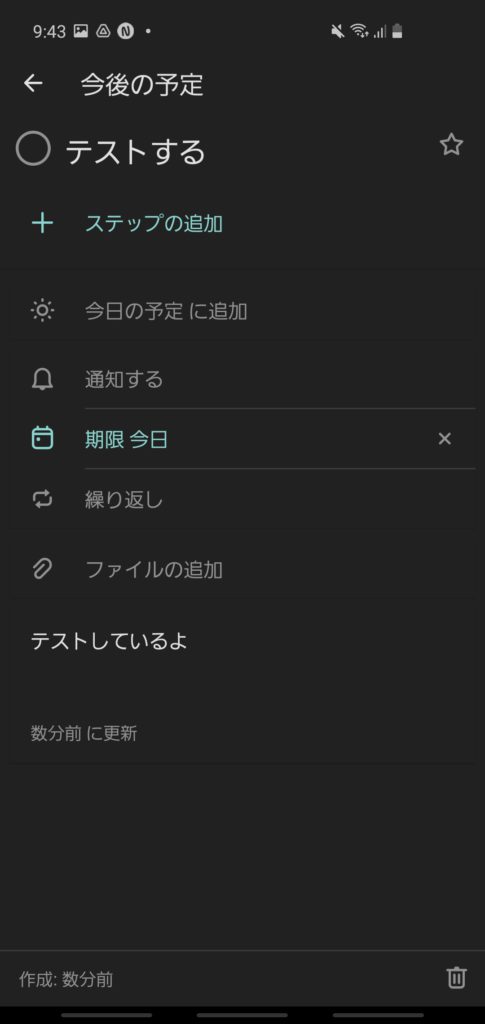 Google ToDo
This is also famous.
It's good to be able to sync with Google Calendar.
I also use it to manage simple recurring tasks.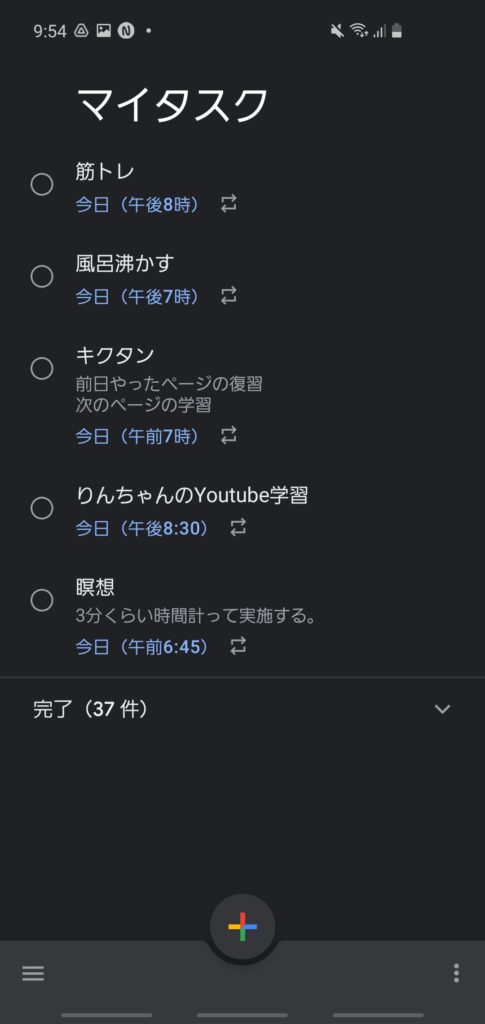 Conclusion
How was it?
There are so many note apps and you may not be able to use everything.
If you make your policy, use case(how to operate) in your mind, there can be smooth to decide which app is most suitable for you!